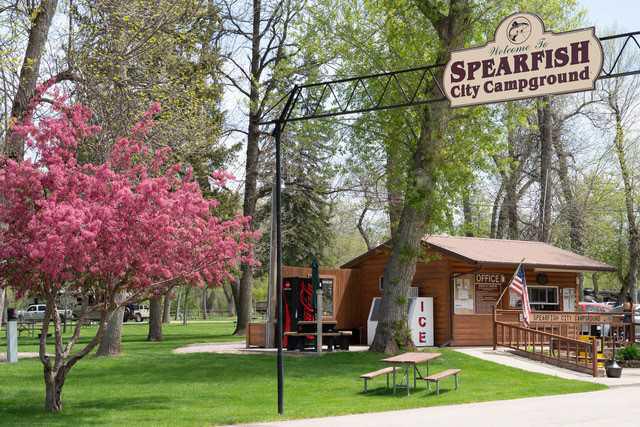 Campground Policies
During the Camping Season (Monday of the first full week in May through October 1), the Campground use is for paying patrons only. Picnicking and parking is not allowed unless a campsite is purchased. Access to the Recreation Path and Spearfish Creek is allowed, but access must be made by foot only. Persons visiting Campground Patrons are asked to stop by the Campground Office and obtain a free Visitor Pass.
Campground Office hours are from 8 a.m. to 8 p.m. from Memorial Day Weekend through Labor Day and on Fridays and Saturdays on other weekends. Shortened Office hours will be posted at the office as the season changes for weekdays and other times.
Reservations are to be paid in full when booking. (Exceptions are for Festival in the Park and Sturgis Rally).
Cancellation Policy: Cancellations must be made by 11 a.m. the day of your arrival to avoid charges. If you do not cancel by that time, you will be charged one night's stay.
All refunds are at the discretion of the Manager.
Full Campground Rates are effective once all utilities are turned on until they are turned off. No Early or Late Season Rates exist. Off-Season Rates do exist and are posted at the office.
Sturgis Rally: at time of reservation a deposit of half the total amount charge is required for all full-hookup sites. Tent reservations and Non-Hookup RV's must call the office to make reservations. All reservations must be paid in full before arrival.
No recreational vehicle or vehicle washing. Cleaning of windshields is permitted.
All vehicles must stop at the office and check in or receive a Visitor Pass (free of charge) during the camping season prior to selecting a site.
Electricity is available on some of the light poles in the primitive areas but is to be used for personal device charging and medical device use only.
Local Spearfish residents and local carpet cleaners may dump for free at the dump station. Proof of residency will be required. Non-resident and non-patron users will be charged $5.
There is a consecutive two-week stay limit. Patrons must then be out of the Campground for a minimum of one week before returning for another two-week stay limit.
Tents and mats on the grass are to be moved on a regular basis to prevent the killing of the turf.
Delivery of firewood from any outside resource is not allowed.
If you must receive a package during your stay the campground

WILL NOT

accept packages. Packages must be dropped off at the UPS store or other location.
We reserve the right to refuse service to anyone and will not be responsible for accidents or injury to our guests or for loss of money, jewelry or valuables of any kind.
Rules
Quiet Hours are from 10 p.m. to 8 a.m. No generator operations after 10 p.m.
Check-in time is 2 p.m. Persons wishing to check-in early may do so if the campground staff deem the site is ready.
Check-out time is 11 a.m. Late check-outs may be available dependent on site reservations, but in any circumstance the site must be vacated by 1 p.m.
Speed limit is 10 mph, please watch out for children.
Display your Camping Vehicle Permit on the rearview mirror facing out.
There will be a maximum number of two vehicles per hook-up site allowed to park at the site at one time including staying guests and visitors. Vehicle passes or other parking options may be available. Please check at the office.
Tents must display the tent tags clearly at the top of the tents.
City Ordinance requires all pets must be leashed, in control, and cleaned up after. Pets are not to be left at campsites unattended. Animal Control will be contacted as needed and owner will be charged accordingly.
Parking by patrons and guests is not allowed on the roads. Overflow parking is at the south end of the Campground or in the Spearfish City Park parking lot.
Campground is for paid patrons only. No picnicking during the Camping Season (Monday of the first full week in May through October 1).
Fires are permitted in fire rings only. Fire restrictions may be implemented at any time due to the changing fire conditions. Fire rings are not to be moved and will be charged for the doing so. Penalty fee of $25.
Cutting of branches is not allowed and will be charged for doing so. Penalty fee of $100.
In case of an emergency after hours, please call the Spearfish Police Department at 605-642-1300.
Animal Control
The City of Spearfish Animal Control Division is maintained by the Police Department with one officer. Duties consist of enforcing city animal ordinances and parking regulations. The Animal Control Officer (ACO) is a certified Law Enforcement Officer with all the powers of arrest.
Section 5-1: Running at Large Prohibited
No owner of any animal shall permit such animal to run at large in the city and no animal shall be off the premises of its owner unless restrained upon a leash and accompanied by its owner or a member of the owner's immediate family.
City Fines
| Offense Number | Fine |
| --- | --- |
| 1st offense | $75 |
| 2nd offense | $100 |
| 3rd offense or more | $145 |
Section 5-34: Nuisances
Any dog or cat within the city which habitually barks or howls or chases or annoys animals, vehicles or persons or which damages or destroys property is hereby declared a nuisance. The Chief of Police or other Police Officer may proceed to abate such nuisance.
The fine for a nuisance animal is $110.